NEWS
IN THIS ISSUE: Sandra — Ready for Romance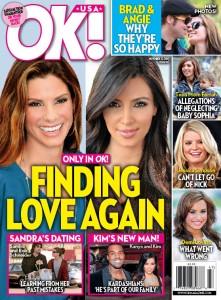 Sandra Bullock is a very private person. She's one of the few people who could pull off hiding the adoption of her son, Louis, for three months during the aftermath of her divorce from Jesse James. But while Sandy might not be ready to open up more to the public, she is ready to be open to love once again. This week's issue of OK! describes what Sandra has learned from her devastating breakup with Jesse and how the actress is finally moving on.
Article continues below advertisement
Sandra might be America's sweetheart, yet America knows very little about the Oscar winner's private life.
"Sandra is a notoriously private person," an insider tells OK!. "She only shares details of her life with a small circle of people that she's known for years — like her sister, Gesine."
OK! GALLERY: SANDRA BULLOCK SPORTS A BAGGY SWEATER IN THE BREEZY BIG APPLE
However, the changes in Sandra's attitude recently have been so drastic that even those outside her select circle have noticed the difference.
"Sandra has been asked out since the split, of course, but now she's putting more energy into meeting guys, too," says an insider.
OK! GALLERY: SANDRA BULLOCK BRAVES THE RAIN IN THE BIG APPLE
After the split, the demands of new motherhood kept Sandy so busy she didn't have time to think about being single. But now that she's gotten comfortable being a mom, Sandra's started thinking about romance again.
Article continues below advertisement
One friend even says that she's begun flirting with a man she regularly runs into at Louis' doctor's office!
Friends are relieved that Sandra is once again thinking about love, after she was crushed by Jesse's betrayal.
OK! EXCLUSIVE: SANDRA BULLOCK TELLS OK! NYC IS "ALWAYS GOOD"
And one thing's for sure: Sandra's not going to make the same mistake twice.
"I'm sure the first thing Sandra looks for is honestly," says an insider. Adds another, "She totally had the rug pulled out from under her with Jesse. She thought he was someone who he wasn't, and he lied to her repeatedly, so obviously she has trust issues, and the guy she dates will have to work hard to win her over."
OK! EXCLUSIVE: JESSE JAMES' EX MICHELLE: "I WISH HIM THE BEST"
Her pals might predict that she'll take it slow, though few doubt that Sandra won't be able to find a lasting love.
"She will definitely make sure this lasts," says a friend. "She's a very loving person, and she would never let Jesse ruin the idea of love for her forever."
FOR MORE ON SANDRA MOVING ON AS WELL AS HER PAST ROMANCES, PICK UP THIS WEEK'S ISSUE OF OK! — ON SALE EVERYWHERE NOW!