NEWS
Is It the End of the Idol Road for Paula?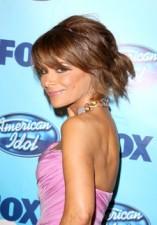 According to a report in the LA Times this weekend, the always-interesting Paula Abdul is threatening to leave her seat at the American Idol table because she's not getting the respect she thinks she deserves from the network and producers.
Paula's manager told the paper that his client "would love to be" back on Idol when auditions begin Aug. 6, but he's gotten no response from the producers regarding a her request for a new contract.
Article continues below advertisement
"Very sadly, it does not appear that she's going to be back on Idol," Paula's manager said. "I find it under these circumstances particularly unusual; I think unnecessarily hurtful... I find it kind of unconscionable and certainly rude and disrespectful that they haven't stepped up and said what they want to do."
A source close to Paula tells OK! that the "Straight Up" singer maybe be painting herself into a corner by going public with her gripes. "It's a negotiating tactic that's most certainly going to backfire," says the insider.
In the meantime, Abdul's rep claims that the oft-confused judge has contingency plans should this be the end of her Idol career.
"I think at this point we're going to be considering everything, including some kind of a competition show," he explains. "She has tremendous ideas for a whole variety of shows."