NEWS
It's Amy Night At New York Film Critics Circle Awards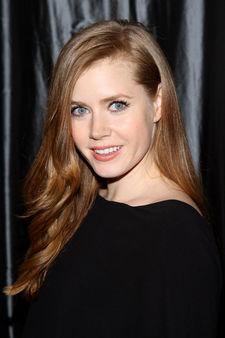 I was so excited to meet Ben Affleck for the first time when I headed out to the New York Film Critics Circle Awards held at NYC's Spotlight Live. What would he be like? I could only imagine, and I thought my curiosity was soon-to-be quenched until … I got the updated tip sheet. Beloved Ben had been deleted.
Well, that's OK. I did get to speak to best supporting actress winner Amy Ryan, who stars in Ben's flick Gone Baby Gone.
Article continues below advertisement
"What I most liked about Ben was his courage and his passion and his generosity," she tells me. "He's one of those directors who really loves actors and gives you all the room, freedom and confidence to set forth to tell the story." Amy adds, "he's a devoted family man."
Tantilizing trays swing by with red wine, baby burgers, pita and feta cheese, hummus and this super-great filet mignon on crackers. Patricia Clarkson waves "hello" to me.
Alas, I would have to settle for best supporting actor winner Javier Bardem, who answers questions only in Spanish. (You never know when those foreign language classes will come in handy!)
Here's best first film winner Sarah Polley, who earns rave reviews during many junkets. How does it feel to take the prize for Away From Her? "Amazing," she tells me. "It's really exciting and also really rewarding after trying for many years to make a film." She looks forward to celebrating her 29th birthday in NYC. "I'm just going to be at my friend Doug's place. He's going to make dinner for a bunch of my friends. It's going to be very low-key. Then I'll go home to Toronto and have dinner with my family." And what about her Go co-star Katie Holmes? "She was lovely and grounded and down-to-earth," she says.
Article continues below advertisement
Fendi-clad presenter Amy Adams is caught in gridlock on the way from the bar, as Sarah chats with presenter Olympia Dukakis. "Are we going to go around?" Amy says. The Enchanted star gladhands with partygoers, and greets a young female fan with an "oh, you're so cute."
Presenter Jonathan Demme, who directs Anne Hathaway in Dancing With Shiva, calls the Prada star "a great American actress." He adds, "She's profoundly gifted. She's a great human being. She's as good as it gets."
Presenter Ruby Dee calls out Will Smith, Morgan Freeman and Jack Nicolson as her favorites. "I love the public ones too. I like Angelina Jolie and Brad Pitt because they're such activists. They're more than actors, and I like them because they're humanists also. I like those actors that are wide open as human beings." What about Denzel Washington, her American Gangster co-star? "He's a marvelous man, and I went to see his wife Pauletta sing A Christmas Carol at Lincoln Center with Natalie Cole. Denzel is an extraordinarily creative actor and has a great sense of humor. He has a great capacity to go with the flow. He makes things up as he goes along. He's very gifted."
The lights flicker on-and-off, signaling the end of the cocktail hour. Time to dole out the awards ...