NEWS
It's Judgement Dave!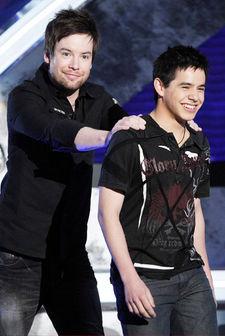 We've seen secret strippers exposed and dads banned. We've seen Paula Abdul take on the space/time continuum by judging performances from the future and, somewhere in the middle of it all, we've seen 24 contestants perform 144 songs.
Now we're only six more songs away from finding out if David Archuleta or David Cook will become the seventh American Idol.
Yesterday, the two David's didn't have time for their scheduled pre-showdown interview with reporters, so Idol sent out a few of their thoughts on tonight's competition.
Article continues below advertisement
Seventeen year old David Archuleta sounds like he's feeling a little under-prepared for the most important performance of his life, while his rival expects to feel more confidant on stage tonight than he has so far.
"I thought I'd have time to prepare for the finale," said Archuleta, from Murray, Ut., "and this is the week where we've gotten the least amount of time to really prepare and it's like the most tiring on your voice but hopefully it will all pull together for tomorrow."
Meanwhile David Cook, 25, from Blue Springs, Mo., says he is looking forward to making the move from CBS Television City, which is home to Idol during the finals, to the Nokia Theater, where the finale will be held.
"You know, it's interesting. I've always been really kind of confused by the idea, like the smaller the crowd for me, the more nervous I tend to get," he said.
"Having the Nokia full, should be great. But you know, win or lose; I think we both win, so for me now it's just kind of enjoying the moment."