NEWS
It's Official: Tori Spelling Joins 90210 Spinoff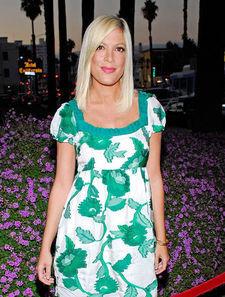 Donna Martin is back!
After weeks of rumors – and relentless groveling – Tori Spelling will reprise her most famous role to date in the new CW 90210 spinoff, the network confirmed Monday.
"Donna Martin will be the owner of one of the coolest stores in Beverly Hills, a shopping hot spot that is frequented by the new cast of characters," the CW said in a statement.
Last week, cast member Lori Loughlin Tori, who's expecting her second child next month, would return in a guest-starring capacity.
Article continues below advertisement
"I think they are waiting for her to have her baby and then they're going to - there's definitely a role for her though in the pilot, like a small little cameo thing which will be fun," Lori said. "But then I think they'll have her back."
Tori, 35, is the second 90210 original to join the series, following in Jennie Garth's footsteps.
Here's to Shannen Doherty being the third!