NEWS
It's Over for Britney & Adnan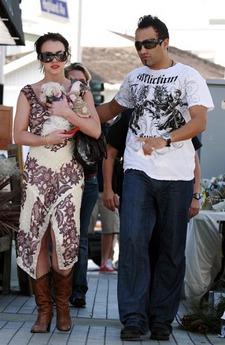 After a handful of headline-making weeks together, the romance between Britney Spears and her photographer boyfriend Adnan Ghalib has ended, OK! can confirm. Also, contrary to reports on various Web sites, OK! has learned that the pop star did NOT file a restraining order against her former shutterbug sweetheart.
Los Angeles Police Department officer Mike Lopez tells OK! esclusively that Brit "has never filed a police report against Adnan Ghalib nor has she requested a restraining order against him."
Article continues below advertisement
Without Adnan by her side for one of the first times since their romance began shortly before Christmas, Britney was out and about, seeming to enjoy herself as she stopped by an L.A. Petco store to purchase $100 worth of goodies for her growing menagerie of pets at home.
"She was smiling from ear-to-ear," one witness, who spotted Brit shopping with pal Sam Lutfi, tells OK!. And if you don't believe the witnesses, take Britney's word for it: "Today's a good day," she told a group of photographers. "I feel great. I'm so happy right now."
Sunday night, Brit was shaking her stuff at North Hollywood's Millennium Dance Complex, her favorite studio to rehearse at.
This development is a big change for Britney, who only last week was talking to friends . The pair looking at pregnancy tests together at a Rite-Aid drugstore on Jan. 14.