NEWS
It's Slumdog vs. Twilight At MTV Movie Awards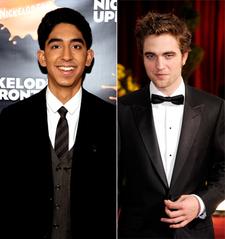 Slum kids vs. vampires? This is a battle we have to see.
The nominations are in for the 2009 MTV Movie Awards, and it looks like Twilight and Slumdog Millionaire will dominate the proceedings.
The MTV audience -- who picked the contenders for the first time this year -- have nominated RPattz and co. and the Slumdog folks for six awards each.
The smash hits will be going head-to-head for best movie, best breakthrough male performance (Dev Patel vs. Robert Pattinson), best kiss (Dev Patel and Freida Pinto vs. Robert Pattinson and Kristen Stewart) and in a new category, best song from a movie ("Jai Ho" from Slumdog vs. "Decode" from Twilight).
Article continues below advertisement
Another new award for this year's ceremony, hosted by Saturday Night Live's Andy Samberg, is the WTF moment for scenes like the naked break up in Forgetting Sarah Marshall, or Amy Poehler peeing in a sink in Baby Mama.
You can vote for the winners HERE.
The 2009 MTV Movie Awards will air live on Sunday, May 31st at 9P.M./8P.M. C
Check out the rest of the nominations below:
BEST MOVIE
The Dark Knight
High School Musical 3: Senior Year
Iron Man
Slumdog Millionaire
Twilight
BEST FEMALE PERFORMANCE
Angelina Jolie in Wanted
Anne Hathaway in Bride Wars
Kate Winslet in The Reader
Kristen Stewart in Twilight
Taraji P. Henson in The Curious Case of Benjamin Button
BEST MALE PERFORMANCE
Christian Bale in The Dark Knight
Robert Downey Jr. in Iron Man
Shia LaBeouf in Eagle Eye
Vin Diesel in Fast & Furious
Zac Efron in High School Musical 3: Senior Year
BREAKTHROUGH PERFORMANCE FEMALE
Article continues below advertisement
Amanda Seyfried in Mamma Mia!
Ashley Tisdale in High School Musical 3: Senior Year
Freida Pinto in Slumdog Millionaire
Miley Cyrus in Hannah Montana: The Movie
Vanessa Hudgens in High School Musical 3: Senior Year
Kat Dennings in Nick & Norah's Infinite Playlist
BREAKTHROUGH PERFORMANCE MALE
Robert Pattinson in Twilight
Taylor Lautner in Twilight
Ben Barnes in The Chronicles of Narnia: Prince Caspian
Dev Patel in Slumdog Millionaire
Bobb'e J. Thompson in Role Models
BEST COMEDIC PERFORMANCE
Amy Poehler in Baby Mama
Anna Faris in The House Bunny
James Franco in Pineapple Express
Jim Carrey in Yes Man
Steve Carell in Get Smart
BEST VILLAIN
Derek Mears in Friday The 13th
Dwayne Johnson in Get Smart
Heath Ledger in The Dark Knight
Johnathon Schaech in Prom Night
Luke Goss in Hellboy II: The Golden Army
BEST FIGHT
Anne Hathaway vs. Kate Hudson in Bride Wars
Article continues below advertisement
Christian Bale vs. Heath Ledger in The Dark Knight
Ron Perlman vs. Luke Goss in Hellboy II: The Golden Army
Robert Pattinson vs. Cam Gigandet in Twilight
Seth Rogen and James Franco vs. Danny McBride in Pineapple Express
BEST KISS
Angelina Jolie and James McAvoy in Wanted
Freida Pinto and Dev Patel in Slumdog Millionaire
James Franco and Sean Penn in Milk
Kristen Stewart and Robert Pattinson in Twilight
Paul Rudd and Thomas Lennon in I Love You, Man
Vanessa Hudgens and Zac Efron in High School Musical 3: Senior Year
BEST WTF MOMENT (New Category)
Amy Poehler in Baby Mama, Peeing In the Sink
Angelina Jolie in Wanted, Curved Bullet Kill
Ayush Mahesh Khedekar in Slumdog Millionaire, Jumping in the Poop Shed
Ben Stiller in Tropic Thunder, Tasting the Decapitated Head
Jason Segel and Kristen Bell in Forgetting Sarah Marshall, Naked Break-Up
BEST SONG FROM A MOVIE (New Category)
"Jai Ho" by AR Raham in Slumdog Millionaire
"The Wrestler" by Bruce Springsteen in The Wrestler
"The Climb" by Miley Cyrus in Hannah Montana: The Movie
Decode" by Paramore in Twilight