NEWS
Ivanka In The Doghouse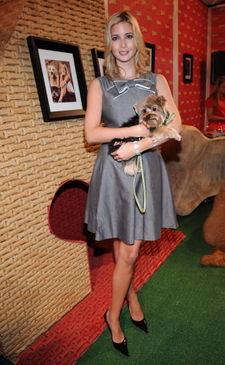 Ivanka Trump wakes up early to bring Yorkie Tiger out to celebrate the 100th anniversary of Milk-Bone dog biscuits. The playful pup mugs for the cameras during the Times Square event held in a doghouse made of 100,000 dog biscuits. It looks like both mom and pup got blowouts this morning!
"It's very hard to control the dog with over a thousand Milk-Bones," Ivanka says.
Guests including Ivanka and Dancing With The Stars finalist Cristian de la Fuente sing "Happy Anniversary" to the tune of Happy Birthday. We nosh on a Milk-Bone-shaped cake created by Food Network's Ace of Cakes chef Duff Goldman. Mmmm!
Article continues below advertisement
Dramarama! Ivanka jumps into a waiting black car before doing interviews. Uh-oh! We're told she'll answer questions by phone or e-mail, but we never hear back. Bummer! Ivanka is one of my favorites -- that's why I'm here. : ( Next time. UPDATE: They're working on it. Yes! Ivanka is the best.
I say hello to Cristian, and spot another familiar face in renowned pet photographer Chris Ameruoso. His dog is sporting a mohawk ! Chris tells me Nicolette Sheridan is one of his favorite pet owners. Her pups names are Fatty and Oliver.
"She literally becomes one of her dogs when she's with her animals. She could be all dressed up in her clothes, and if her dog jumps in the pool, she'll jump in the pool after them."
What does fiancé Michael Bolton think?
"He loves Nicolette and the dogs, too, but he thinks Nicolette's a total nutcase with the animals."
One trend sweeping the celeb set is pot-belly pigs. George Clooney owned one for twenty years, and now Reese Witherspoon and Denise Richards also have pigs. Paris Hilton wants one.
Article continues below advertisement
"Pot-belly pigs are so smart," he tells me. "It's like dealing with a human. If you yell at a 5-year-old child, it hurts. Like when your dad yells at you. That's what a pig feels. People don't realize that. It's a negative and a positive at the same time. They're good pets but they're not like owning a dog. They're very clean and they have a lot of personality and they get very nippy, but people get scared of them when they get older because they come and start nibbling at you. They've got little chompers, and it hurts. I'm hoping that 2-3 years from now we don't start seeing all these pot-belly pigs. It is a fad, like the girls walking the red carpet with their small dogs."
Chris recommends TomKat get a Labrador for Suri. "Kids can sit there and roll on them and play with them and hit them and they're OK with it," he tells me.
Hooray! Milk-Bone raises $1 million to donate to its Milk-Bone Canine Heroes program, which helps dogs serving law enforcement agencies and the physically disabled.