NEWS
Ivanka Trump Drinks 'Almost No Water'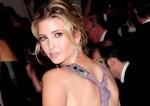 Ivanka Trump has an enviable figure, but she admits her diet isn't perfect. The Celebrity Apprentice beauty completes OK!'s What I Ate Today interview in the issue on newsstands now.
"Discipline in what I eat is my biggest diet challenge," she tells me during a Trump SoHo New York event. "I know I don't eat enough salads and things like that."
She noshes as much as she pleases when it comes to her favorite treat: mozzarella sticks.
Article continues below advertisement
"My friends would say I don't hold back," she laughs. "I constantly rely on the fact that I'm 28 years old, and I just hope that my metabolism stays with me for a few more years, at which point I'll have to start limiting these things a little bit."
She has a confession.
"I drink almost no water, which is very bad for me," she says. "It's not particularly good. When I do drink water, I drink sparkling water, which I'm not sure is quite as healthy. I drink a lot of tomato juice. My diet is very sodium-heavy, which I've been told, but I enjoy tomato juice and pretty much that's it."
MORE ON:
Red Carpet Confidential
Hm, what else does she drink?
"I don't drink a lot of soda, and I only really drink wine. My attitude is I don't really have a particular attitude, but I enjoy a glass of wine with dinner."
Here's my pic with Ivanka:
Pick up the OK! on newsstands now for the rest of Ivanka Trump's What I Ate Today interview. The cover line is "Rob Tells Oprah: 'Kristen's Pregnant!'"