NEWS
Jacko and Sheikh Settle Out of Court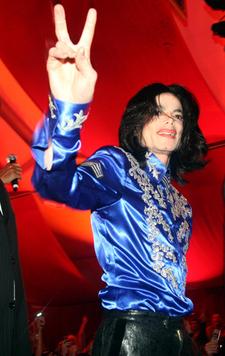 So there's one fewer crisis hanging over Michael Jackson today.
He may have finally lost Neverland, but according to NYTimes.com Jacko and the Bahraini prince who was suing him for breach of contract and unpaid debts have settled out of court.
Sheikh Abdullah bin Hamad al-Khalifa, the son of the king of the Arabian country, claimed that Michael had promised to record a new album for him, write an autobiography and produce a stage play and that the star also owed him $7 million.
Article continues below advertisement
But the site reports that Jackson's lawyers argued that that Sheikh Abdullah was just a "generous but naive, star-struck pop music amateur", anything he gave Jackson while they were friends was a gift, not a payment and that he was never contracted to do anything for the prince.
Now they've managed to work out a deal before it goes to court, but both sides have said they won't reveal how much the it's for.
Neither the the Thriller star nor the sheikh were in the High Court in London today to hear the settlement read to the judge, but they released a joint statement through their lawyers shortly afterwards.
"Sheikh Abdullah and Michael Jackson are pleased to confirm that they have amicably settled their dispute which was in litigation before the High Court in London," said Philip Croall, senior partner at Freshfields law firm.
"They wish each other well in their own, respective endeavors," he told reporters.
The settlement could be another major financial blow for Jacko, who has already had to hand over the title deeds to his famous Neverland ranch to a property company in the last couple of weeks.