NEWS
Jacko Fans Stopped Before They Get Enough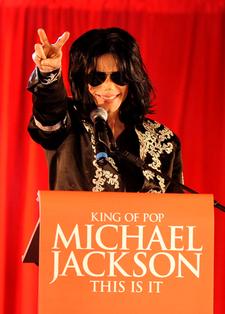 Instead of auctioning off 1,390 items from his personal collection of memorabilia, Michael Jackson had decided to moonwalk away from the sale in an unsurprising show of his increasingly fickle attitude.
Michael canceled on Julien's Auctions, who will return the various gloves and cars on April 25. Instead of buying Jacko's goods, fans will be able to view the collection for $20 until April 25.
"Both parties, Julien's Auctions and Michael Jackson, agree to halt the auction," Martin J. Nolan, Executive Director of Julien's Auctions told ABC News. "All items will remain intact as one collection and will be returned to Michael Jackson."
Article continues below advertisement
"Both sides agree to make a generous donation to Music Cares, the charity founded by the Recording Academy," added Nolan.
In recent years, Michael has changed his mind on many things, including a comeback tour with his brothers in The Jackson Five and an album for a Bahrainian sheikh, who then sued him over it.
Jacko agreed to have Julien's sell the items after he was forced to sell Neverland Ranch. However in March he changed his mind and sued the auction house, saying he hadn't authorized the sale.