NEWS
Jacqueline Kennedy Onassis Believed Lyndon B. Johnson Behind JFK's Death? ABC News Says No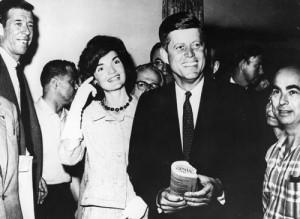 Reports are hitting the Web claiming the Jacqueline Kennedy-Onassis tapes being released in September will reveal the former first lady believed Vice President Lyndon B. Johnson was behind the assassination of her husband, President John F. Kennedy. But ABC News, who is releasing the tapes, says the reports are completely untrue.
OK! NEWS: SEALED JACKIE KENNEDY TAPES WILL AIR IN SEPTEMBER
Within months of her husband's assassination, Jackie reportedly recorded tapes that have since been sealed in a vault at the Kennedy Library in Boston. However, ABC News has now been given permission to release the tapes in September and reports on what the tapes say have already been speculated
Article continues below advertisement
According to The Daily Mail, the tapes will reportedly reveal that Jackie felt John's successor was behind the plot of his assassination, along with businessman in the South and gunman Lee Harvey Oswald.
The tapes are also said to suggest that John was having an affair with a 19-year-old White House intern.
OK! NEWS: KATIE HOLMES' THE KENNEDYS FINDS A HOME AT REELZCHANNEL
As juicy as these reports may be, ABC News is saying they are false.
"The tabloid reports about the content of the tapes are totally erroneous," an ABC News spokesperson said in a statement to FoxNews.com. "ABC News isn't releasing any content from those tapes until mid-September at which point it will be clear how off base these reports are. The actual content of the tapes provide unique and important insight into our recent past from one of the most fascinating and influential First Ladies in American history."