NEWS
Jada Pinkett Smith Calls Justin Bieber Her "Little Sweetie" & "Little Will Smith"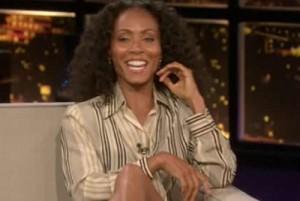 Jada Pinkett Smith stopped by the set of Chelsea Lately last night to promote the upcoming season of her show Hawthorne and, inevitably, the topic ended up on host Chelsea Handler's favorite person — Justin Bieber.
When Chelsea asked Jada about her relationship with Justin, she shared: "He is my little sweetie."
"I see he put his charms on you just like he put his charms on me," Chelsea quipped back, before asking the actress and mom of two why Justin reminds her of her hubby Will Smith.
Article continues below advertisement
"I remember when he did the MTV Awards and he came home with Jaden Smith to stay with us that night — our home is like a little haven for him when he comes to L.A.," she shared, adding, "Immediately he went to the computer and he wanted us to gather around and he wanted to critique his show. That was the first thing. I'm looking at him and I'm going, 'If I'm not looking at a little Will Smith...' "
"He's passionate about what he does, and he does it for his fans," Jada continued. "He just really, really loves what he does."
Jada also opened up on working with her hubby, who is a producer on the set of Hawthorne.
"It's an interesting dynamic. It gets a little sticky sometimes," she explained. "We both create differently. So it can get a little hot and sticky sometimes."
On the flip side, Jada said it is a great experience "to be able to do what you love with someone you love so much."
Watch her interview, via E!, below!