NEWS
Jada Pinkett Smith Gives Marriage Advice to Miley Cyrus: "There's a Lot of Change Coming"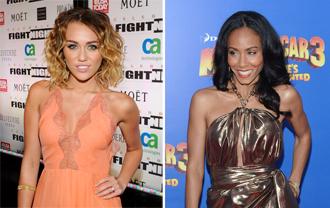 Jada Pinkett Smith has been married to Will Smith for nearly 15 years, so when it comes to relationship advice, she knows what she's talking about! The actress, who is mom to child stars Jaden and Willow, was surprised to find out Miley Cyrus got engaged, but offered up some advice to the 19-year-old bride-to-be.
At the Mamarazzi Event, presented by Capri Sun Super V & The Moms in NYC last night, OK! asked Jada what advice she'd give to young couples like Miley and Liam Hemsworth, who are taking the plunge. To our surprise, Jada didn't even know Miley was engaged!
Article continues below advertisement
"Miley is getting married? She's engaged?" Jada said in disbelief, before offering up some words of wisdom.
OK! GALLERY: MILEY CYRUS FLASHES HER ENGAGEMENT RING FROM LIAM HEMSWORTH AT LAX
"I would say learn how to be friends because, especially when you're starting that young, there's lots of change coming. Lots of change. Lots of transition, you know?" Jada explained. "Forever is a long time. And when you're starting forever at 19 years old – it's a long time!"
"And that's not to say that that's not something or that there's anything wrong with that, it's just to know that what it is now and what it will be…it's just going to continue to transform and change," the Madagascar 3 star added. "So, you have to be with someone you consider a friend and you have to keep flexibility."
Jada admitted she started dating Will at young age, so she made sure to touch on the fact that Miley has a long, but amazing road ahead of her.
Article continues below advertisement
"We celebrate throughout the year!" Jada joked when asked what she and Will will be doing for their 15th wedding anniversary.
"Usually on our wedding anniversary, we give ourselves a high-five and then, 'Yeah, homie! Yes!' You know?," she laughed. "We usually use the whole year. I mean, there's been many times throughout the whole year, we just look at each other and go, 'Do you believe what we've been able to accomplish from where we've come from?'"
Reporting by Kaitlyn Monteiro