NEWS
Jada Pinkett the Tomboy!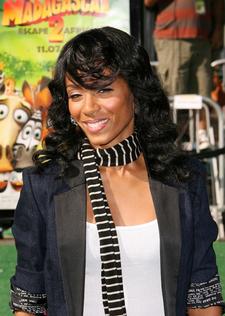 Jada Pinkett Smith knows how to work the red carpet in glamorous gowns with her husband Will Smith by her side, but the busy mother and actress insists she's not a girly-girl.
"I'm a girl-guy and I always have been," she tells Parade.com. "I'm a tomboy, I like boxing, and I like sports."
The stunning ctress, who's returning as the voice of Gloria the Hippo in the sequel to Madagascar, says in her past before Will, she wasn't seen as sexy or sultry.
Article continues below advertisement
"The irony is I was the girl in school that was always very petite and underdeveloped so I was thought of as everybody's little sister," she says. "I was never the girlfriend. I was always the little sister."
In her role providing Gloria's voice, Jada will definitely be representing someone who's large, in charge, and proud of her body, something she says she's really excited about.
"I've been that tiny girl that's always wanted more body. So this was a great opportunity for me. My dream came true," Jada explains. "I got a lady that's got a lot of body and she's very proud of it. Actually, I think that's a really wonderful message for adults as well as children that you've got to be happy in your own skin."
As for her high-profile marriage, which has outlasted many a Hollywood marriage at over 10 years, Jada says the perception that life with Will is perfect is slightly misunderstood.
"I want people to understand that we are extremely happy because we have dealt with what the realities of relationships are instead of dealing with the romanticized version," she reveals. "Relationships are difficult and they take a lot of work. But it is very possible, in living in that reality to have a fantastic relationship.