NEWS
Jade Goody's Final Days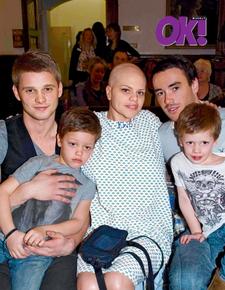 Jade Goody has done the things she wanted to complete before dying of cervical cancer: As OK! reported with exclusive pics, the mother of two married her love, Jack Tweed, and then was christened days later, alongside her sons Bobby and Freddy.
And now as time runs out for the star, a rep describes her final days to OK! as spending time at home resting, surrounding by pictures from OK!'s magazine features on her wedding and christening ceremonies.
Article continues below advertisement
CLICK HERE for OK!'s Jade Good's Last Goodbye gallery
Jade left the hospital on March 14, in order to be home with her family and enjoy what time she has left in the peace and comfort of her family's love. She and the boys had an early Mother's Day, which is on March 21 in the U.K.
The boys were taken by their father, Jade's ex-boyfriend Jeff Brazier, to bring flowers to their mom at home.
When Freddy asked his mom why she looked so drowsy, Jade replied, "Because the angels are calling for Mommy."
OK!'s EXCLUSIVE JADE PHOTOS: