NEWS
Jaimee Grubbs Grabs a New Guy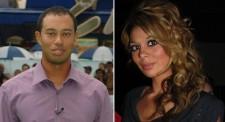 Looks like Jaimee Grubbs, the 24-year-old cocktail waitress and alleged Tiger Woods mistress, has found herself a new man — who isn't a world-famous, married golfer with two young children! According to E! News, Jaimee is now dating an L.A. bartender/snowboard equipment store worker, who despite being slightly older than Jaimee (he's in his 30s), must be a much better match for her than Tiger!
"They have been hanging out as friends for about a month, and she's been staying at his place for the last two weeks," the source explained. "But they didn't become an official couple until a few days ago when she referred to him as her 'boyfriend.'"
Article continues below advertisement
Jaimee and her new man showed up together at MyHouse nightclub's BE Design event hosted by the Hollywood Clique and the Brave Foundation, but they kept their relationship relatively quiet.
"They want to keep their relationship under wraps, so they kept it mellow at the event," the source said. "Jaimee walked the red carpet alone, and the two connected inside."
"He's shy and doesn't really talk to Jaimee's friends much," added the source. "None of her friends know much about him."
As for having any Tiger in her life?
She doesn't have any contact with him at all," said the source. "None of her friends even mention Tiger."
Jaimee may be done with Tiger, but will still be using him.
The source said Jaimee has told friends she is "grateful" the Tiger scandal because it will help her start her career in acting.