NEWS
Jaimee Grubbs on Reconciling with Tiger: "I'm Always Open to Second Chances"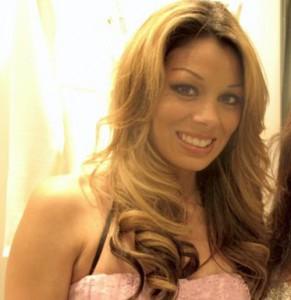 Jaimee Grubbs is doing her best to put the Tiger Woods scandal behind her. One of the golf pro's most prominent mistresses opened up to OK! at the Foravi boutique Madison Avenue store opening in NYC, about the reported divorce between Tiger and his wife Elin Nordegren, whether she would ever reconcile with Tiger, her dating life and plans for the future.
What do you think of the recent reports that Tiger and Elin have finally split and divorce proceedings are going through?
Article continues below advertisement
For the first time since pretty much everything, I bought some entertainment magazine and I actually read that story. It was on the first page and that was the first acknowledgment I had seen in writing that they were splitting up. The situation is hard. I'm not going to comment on it anyway. I mean it's negative if she stays and it's negative if she leaves. Only she can know what she's going through.
OK! NEWS: TIGER'S MISTRESS DISHES ON SANDRA
If the divorce goes through, what do you think Tiger will be like as a single man?
I mean, he has a lot to prove and a lot to make up so I think for a while he's going to lay low. Hopefully he can just be himself. He doesn't have to keep that perfect image anymore, so maybe he will actually get in a healthy relationship.
Did you watch any of his press conferences or The Masters?
Article continues below advertisement
I did not watch The Masters. I watched one press conference live and it was kind of shocking and kind of expected and that was his first public appearance but I haven't it followed it much. I'm just trying to move on from it.
Do you think you would ever be able to reconnect or reconcile with Tiger in the future?
If enough time passes and he were to ask, he is somebody that I did get to know and the person he is is great. We may be able to reconcile things, but I'm not going to put myself out there. If he called ad apologized and said he wants a fresh start, I'm always open to second chances.
Are you dating anyone right now?
Yes. I am dating. I do have a boyfriend. We actually just moved in together in L.A. We met about a year and a half ago, and we had a friendship for about a year and finally got serious about six months ago. I met him at work where he manages a snowboarding shop.
What have you been up to?
For the most part I'm trying to just put everything behind me and just move on. I'm really focusing on hosting right now so I'm trying to push forward in that. I don't have a specific field that I want to go in, I'm open to everything, that is my direction at the moment. That is my direction for the moment.
Article continues below advertisement
What type of hosting gig are you interested in?
Ideally it would be something like Dancing With the Stars host. Something of that caliber, red carpet events, whatever it may be. I'm not really looking for like a show on the top 10 party cities or something like that. People already see that image of me and that is what expected if I went into hosting so I'm trying to steer away from that.
Can you talk about your recent Vanity Fair shoot?
It should be coming out I believe this month. So I'm excited for it. It is definitely a whole new side. You know the magazines that came out were like Maxim and Ralph so they are swimsuits and lingerie and this is like high designer gowns and I'm very excited for them to come out.
Can you describe the spread?
I would say champagne like long dresses. They are very simple, very silk, not detail on them. It represents the way I like to dress which is good so it wasn't out of my comfort zone. Mark Sallinger was the photographer for the shoot. He is great. I met him a few times prior to the shoot so it was comfortable and really fun.
Article continues below advertisement
Is it true that there is going to be another "woman tell-all" that you will participate in with other Tiger mistresses?
I think the closest to a women tell-all was the E! special that aired, "Kiss & Telll." I did not know the other girls were going to on that or I might have had a different outlook on doing that show. I'm personally not going to do a women tell-all. I've been personally trying to separate myself from the other girls. I mean all our stories are different. I feel mine is nothing like theirs so being grouped in the same category as them is something I'm not trying to do. I had done a Howard Stern show with some of the girls and they told me I was rude and I didn't try to be friends, but if your heart is broken by somebody that you loved and you see all these other girls, you don't want a constant reminder of all of the pain that you went through. And that is all I see happening when I see these girls.
How do you think Joslyn James is handling her mistress status?
It is hard for me to say anything, because I don't want to be negative toward anybody. I mean everybody is going through their level of hurt.
OK! VIDEO: JAIMEE GRUBBS THOUGHT SHE WAS TIGER'S ONLY MISTRESS
Reports have surfaced that her porn career is affected? Do you think she is putting herself out there too much?
When you are in the profession of doing pornography and stripping, I don't understand how it is the way she says it is. She is making a deal of a situation that already reflects poorly on her.