NEWS
Jake Gyllenhaal & Anne Hathaway Became "Pretty Intimate" Filming Nude Scenes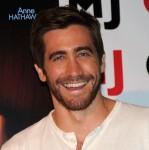 Jake Gyllenhaal is candid about baring all for his art — particularly when it involves getting naked on screen with Anne Hathaway.
The pair co-star in Love and Other Drugs, playing mismatched lovers who spend a lot of time in bed. So how did Jake and Anne prepare for those moments?
OK! NEWS: JAKE & TAYLOR SWIFT'S DATE NIGHT?
"We talked about what we thought was sexy, about what were the things that interested us, and through the discussion became pretty intimate with each other," he tells UK Esquire magazine via Just Jared.
Article continues below advertisement
It was not the first time the bearded heartthrob and the Bride Wars actress have been naked together. "Anne and I had already had sex on film in Brokeback Mountain," he says.
OK! NEWS: ANNE HATHAWAY ADMITS SHE'S "TOO TRUSTING"
"There's something about the way Annie and I both work which is inherently very musical. It's all about rhythm. There's a rhythm to writing, there's a rhythm to sports, there's a rhythm to sex."
How did she handle the nudity? "Annie, because as a woman I think it's harder. She said at one point, 'Well, we're both topless and we both show our butts.' And I was like, 'Hmm, but it's a little different for you.'"
OK! VIDEO: JAKE & ANNE HOOK UP IN LOVE AND OTHER DRUGS
Jake adds: "I was naked a lot in the movie. I was naked in more of it than was even in the final cut. A director's cut? I don't even know how that would be rated."