NEWS
Jake Gyllenhaal & Anne Hathaway: Naked "65 Percent" of New Movie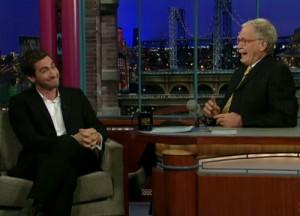 David Letterman made it quite clear to his late night guest Jake Gyllenhaal that while he enjoyed the actor's new movie, Love and Other Drugs, he found the frequent nudity to be quite surprising! The host of the Late Show said last night that he found some of the nudity unexpected between Jake and his co-star Anne Hathaway, but the hot star explained he and Anne "had cinematically been de-virginized already" while working on Brokeback Mountain.
Article continues below advertisement
"You get excited when you first, you see Anne — uh, she starts, she is undressed ... But what you don't think of is that we're going to see you naked. You know, that didn't occur to me," Dave stuttered to Jake's amusement.
OK! GALLERY: ANNE & JAKE KEEP CELEBRATING LOVE & OTHER DRUGS
"Usually, when people have sex — whatever, intercourse — both people have to take their clothes off, David," Jake responds wittily. "65 percent of the movie we don't have our clothes on — or according to you, only she doesn't have her clothes on."
Catch the funny clip below!