NEWS
Jake Gyllenhaal's a Man in Black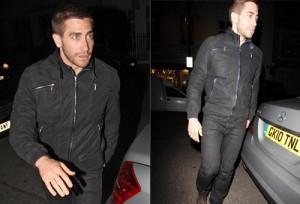 Jake Gyllenhaal blended into the dark night yesterday as he arrived back at his hotel in London. The A-list actor looked like he was on a mission to get back to his room. Wonder why he looks so gloomy? Maybe he doesn't like the single life.
Jake recently said in an interview that he doesn't like being alone and is still feeling the loss of his good friend Heath Ledger.
MORE ON:
OK Galleries & Photos
Article continues below advertisement
Hopefully his mood picks ups soon! Nothing is worse than a sad — albeit really, really good-looking — superstar.