NEWS
Jake Pavelka & Vienna Girardi: We Saw Each Other "Illegally" For Months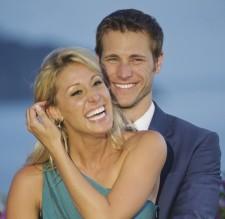 Jake Pavelka and Vienna Girardi have been "sneaking" around together since the show wrapped three months ago.
"We've been together for the last three months," Vienna said on the Ellen DeGeneres show, sporting the princess-cut Neil Lane diamond Jake gave her on show's finale.
OK! EXCLUSIVE: THE NEXT BACHELOR WEDDING IS JILLIAN & ED'S
"Sneaking around?" Ellen asked. "Yes, illegally," Jake quipped.
"But we're engaged, so we're allowed to sneak around," his fiancée added.
Article continues below advertisement
"When Vienna snuck down and got in bed with you?" interjected Ellen.
OK! NEWS: TENLEY MOLZAHN CONFRONTS JAKE PAVELKA
"They made you look a little crazy with the lantern going through, searching all over," Ellen told Vienna. "They edited that to make you look like a crazy woman looking for him in his bed."
"You used a very good world just then — edited," Vienna replied. "I can't say it."
"It was actually a 45-minute conversation," Jake explained. "Coincidentally, everybody got to see the best three minutes of it but she described what love was, what she thought of love...
"The bedtime was later. But values, and spirituality, and different things like that. I just realized, wow, we really line up."