NEWS
Jake & Reese: Summer Love!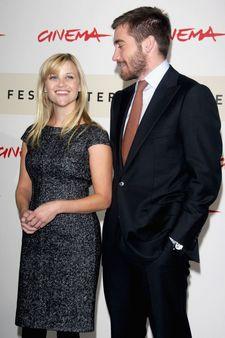 On a sweltering hot Sunday in Malibu on May 18, a beautiful young couple wandered along the beach, played fetch with their dog and stopped to draw shapes in the sand.
The adorable couple was none other than Jake Gyllenhaal and is lady love Reese Witherspoon, who gave the nearly triple digit L.A. heat a run for its money with some sizzling hot action of their own!
"When the temperature started dropping toward the end of the afternoon, they both wrapped up in their beach towels, and he was making sure she was warm enough," an onlooker tells OK!.
Article continues below advertisement
Though summer is still weeks away, Reese,32, and Jake,27, are already getting into the spirit of the season. Sources say Jake — who is currently on hiatus from filming his movie Nailed — is planning a getaway to Martha's Vineyard with Reese, her kids Ava,8, and Deacon,4, and his family in the coming months.
"He wants to get his family and her family together to spend a quiet weekend there," a pal of Jake tells OK!. The friend adds, "Reese thinks she's found her soul mate in Jake."
For the full scoop on Jake and Reese's summer getaway plans, pick up the new issue of OK! — on sale everywhere Thursday!