NEWS
Jake T. Austin Talks The End Of 'Wizards of Waverly Place' & Onscreen Sister Selena Gomez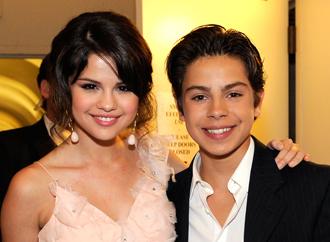 It's almost the end of an era on Disney. This Friday marks the finale of the hit show Wizards of Waverly Place. OK! caught up with star Jake T. Austin in NYC, where he discussed the final episode and co-star Selena Gomez.
"Everyone was like depressed about it," Jake said about the finale. "But I think all of the fans are looking forward to seeing who wins the magic competition. The result of the finale."
Article continues below advertisement
It's been a close race between the three siblings to see who is going to be crowned the family wizard. "The show takes a different turn, so it's going to be hard to tell who wins. That's why you have to tune in and look out."
OK! NEWS: JAKE T. AUSTIN REVEALS 'I REALLY WANTED TO FILM WITH BON JOVI' IN 'NEW YEAR'S EVE'
Has the cast been able to stay in touch since wrapping earlier last year? "Yeah, we stay in touch," Jake told OK!. "It's hard. Everyone's been working on so many different projects that force them to be in different places — especially Selena. She's a musician, so it's hard traveling. But we're always texting each other and on iChat. Even if we're not in front of each other, we're always around each other."
The best way to keep in touch? Twitter! "It's hard to ignore everybody because you hear about them whether you like it or not," he remarked, laughing.
Jake also told OK! about his famous onscreen sister, Selena! "She's the most down-to-earth person, probably there is, but everyone I've come across — I've never had a problem with them. Even the biggest pop stars, biggest celebrities — everyone's usually been cool."
Article continues below advertisement
OK! NEWS: SELENA GOMEZ THANKS FANS & MENTIONS UNBORN SISTER'S NAME
Why does he think she's hit the big-time now? "I don't know. I think every couple years someone comes along and takes maybe the place of someone else or fills a void. You saw it with Miley Cyrus on Hannah Montana and Selena and Demi Lovato, so all of these girls kind of follow, like, a pattern, a formula. It seems their teams have got it down to a tee. It works, they know what sells. God bless them. It's not my career, but it's good decision-making and good, careful planning."
You can catch the emotional Wizards finale on Friday, Jan. 6, on the Disney Channel.