NEWS
James Arness, 'Gunsmoke' Star & Hollywood Legend, Dies at 88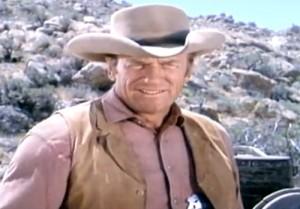 Hollywood legend James Arness, the handsome 6-foot-7 actor best known for portraying Marshal Matt Dillon on the Western series Gunsmoke, died Friday of natural causes. He was 88.
Family spokesperson Ginny Fazer told the Los Angeles Times that James died of natural causes in his home in Brentwood, Calif.
James earned praise for his role on Gunsmoke, which debuted on CBS on Sept. 10, 1955 and ran through 1975, blowing its competitors out of the water.
Article continues below advertisement
"Matt," James once said of his character, via the L.A. Times, "is very human and has all the failings and drives common to anyone who is trying to do a difficult job the best he knows how."
James war born and raised in Minnesota and after working as a radio announcer in his home state, he moved to L.A. and got his acting break in 1947 in The Farmer's Daughter with Loretta Young.
Actor and western legend John Wayne helped James land the role on Gunsmoke after the Oscar-winner turned down the part.