NEWS
James Durbin Storms Off Stage After Stefano Langone's Elimination on 'American Idol'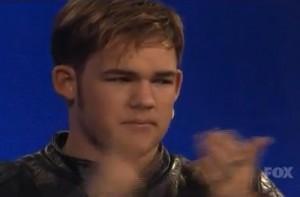 The bromance between American Idol contestants Stefano Langone and James Durbin came to an abrupt end last night, as Stefano was the latest to be eliminated on the hit Fox singing competition.
Stefano was gracious about his exit, acting like he expected the blow and seemed eager to move on.
His best pal James, however, was devastated and didn't try to hide his feelings. As soon as the news was announced, James buried his face in his hands, looking visibly devastated.
Article continues below advertisement
During the commercial break right after Stefano was eliminated, he headed straight for the couches to embrace James for "one big, fat, bro hug," E! News reports.
In the final seconds of last night's results show, when all the contestants were saying their goodbyes, James just walked off stage because he was so disappointed in America's choice.
James hasn't Tweeted any of his own thoughts on Stefano's elimination, but he did Tweet the following fan message: "Durfano fo lyfe <3 @slangoneai10 @jdurbinai10"