NEWS
James Franco on Bruce Vilanch's Oscar Criticism: "Bruce, He Let Me Down"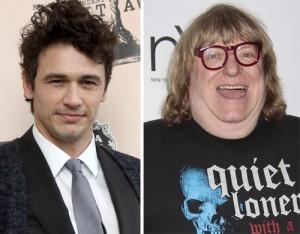 When will James Franco's Oscar nightmare be over? Oscar writer Bruce Vilanch has now spoken out on what he thought of James' hosting skills and James has already responded saying he "let me down."
OK! NEWS: BILLY CRYSTAL SAYS HOSTING THE OSCARS AGAIN "MIGHT BE FUN"
"I have to call James Franco and tell him the show's over," Bruce said jokingly to New York Magazine's Vulture. "He doesn't know. He took a nap and he woke up in class."
Article continues below advertisement
And James being tired is what Bruce thinks is somewhat responsible for the way his hosting turned out.
"He has so many balls in the air, he didn't get to town till Thursday before the show on Sunday. And so we e-mailed a lot. But we had a lot of meetings. He had a bunch of people who were writing for him, and if it had been him alone, it would have been different," he explained. "But it was him and Anne Hathaway, and they both had to be serviced. So there was a lot of communication beforehand. But he didn't get there."
"I don't think he realized how big a deal it is to do it until he was actually confronted with it," Bruce added. "I think he thought he would kind of ... I don't know what he thought. I thought maybe it was a performance-art prank, and then I realized he sincerely wanted to do it. But it's outside of those guys' comfort zones. The only people who know how to host those shows are people who get up onstage every night and say, 'Good evening, ladies and gentlemen. A funny thing happened ... ' Or people like Bette Midler who get up and sing all night and tell stories."
Article continues below advertisement
But Bruce did defend James against the rumors that he was stoned during the show.
"No, he wasn't high," Bruce said. "I was with him, and he wasn't high. And I asked him, 'Are you high, and can I have some?' And he said no to both."
OK! NEWS: JAMES FRANCO'S REP ON OSCARS — "JAMES DOES NOT DRINK OR DO DRUGS EVER"
Still, James went on Twitter, which he started right before hosting the Oscars, and posted a picture of him posing with Bruce.
Over the picture coming out of Bruce's mouth he wrote, "James f***ed up the Oscars. Trust me, I know comedy. I mean, come on, I write for Bette Midler."
And the caption of the photo says, "bruce, he let me down."