NEWS
James Franco Says He'll Be Singing & Dancing At the Oscars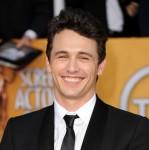 We kind of saw this coming since Anne Hathaway's singing abilities have been documented, but it sounds like James Franco will be joining his Oscar co-host in a bit of singing on stage!
OK! VIDEO: JAMES FRANCO TACKLES ANNE HATHAWAY IN FIRST OSCARS COMMERCIAL
"This weekend we did shoot some of the pre-tape sections," James told Access Hollywood on the SAG Awards red carpet. "Anne Hathaway and I did some dancing, some choreographed dancing, and I recorded some vocal tracks."
Article continues below advertisement
To help get his voice where it needs to be, James says he's been taking some lessons.
"I had a great coach," James said. "He pulled it out of me."
And it sounds like he's enjoying himself!
"It really makes me want to do a musical on Broadway."
OK! VIDEO: JAMES FRANCO ON OSCAR NOMINATION — "IT'S A BIG HONOR"
And aside from looking forward to showing off his vocal skills, James is excited to bring his grandma to the show!
"Grandmother is coming to the Oscars," he shared. "The whole family is coming to the Oscars. That's one of the nice things about being the host is you get to invite a bunch of people, so they are all coming, Grandma is coming and she might just be on camera."
"She can't wait for it either," he added. "Every day she counts the number of hits that she gets on Funny or Die."
"I think we're up to 400,000," James shared. "She gives me updates."
In case you missed it, check it out below!