NEWS
James Franco Tells 'The View' Twitter Was Getting Him Into Trouble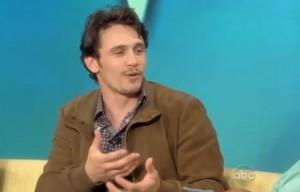 Article continues below advertisement
"Like Anthony Weiner?" Sherri Shepherd jokingly asked.
After everyone congratulated Sherri on the good joke, Elisabeth Hasselbeck changed the subject by asking, "And you Tweeted during the Oscars, right?"
"I did that, which was for me, was a way of showing another story of the Oscars. A little controversy — some people didn't like that, but for me it was interesting and had never been done before. I wanted to give a perspective of the other side."