NEWS
James Franco's Plans for Oscar Nominations Announcement: "I Will Be at Yale"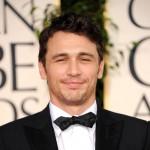 It may be a sleepless night in Hollywood tonight as the stars wait in anticipation of Oscar nominations announced tomorrow. But James Franco won't be one of them, he'll be sitting in class at Yale trying not to think about it!
OK! GALLERY: HOT GUYS ABOUND AT GOLDEN GLOBES
This year's Oscars are a big one for James as he will be co-hosting with Anne Hathaway and could be nominated for 127 Hours.
But he's trying not to stress about any of that!
Article continues below advertisement
James is currently taking classes at Yale and the Rhode Island School of Design and says he'll be focused on that tomorrow morning rather than the announcement of Oscar nominations.
"I will be at school. I will be at Yale. Fox Searchlight asked me if I would go to New York to be ready ... in case that I was nominated," James explained to the Associated Press. "I said, 'No (laughs). I'm not gonna miss class to go and presume that I'm going to be nominated, but if you want to bring out a camera crew to Yale and wait and see if I get nominated, I'd be happy to step out of class and say I'm very grateful (laughs).'
OK! NEWS: JAMES FRANCO SAYS HE MADE A SEX TAPE AT 19!
And he hasn't even started to think about co-hosting the show.
"It's gonna be my face and Anne's face right in the middle of everything. But what people don't see is the whole apparatus behind us that's been working on this project for like a year, so I trust them," he said. "I'm leaving it up to them. I have no desire to make my mark on the hosting gig ... I'm gonna do it as well as I can, but as far as writing my own lines and stuff like that, it's not where my artistic, you know, passions lie."
"I have no need to etch my lines into there," he added. "I think they'll do a great job and I feel fairly confident that I'll be able to deliver whatever they give me."
We're fairly confident he will too and wish him luck for tomorrow morning!