NEWS
Jamie Campbell Bower is All Over the Teen Radar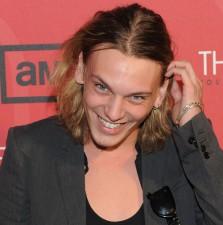 If you're not familiar with Jamie Campbell Bower yet, you will be soon! The blond Brit will no doubt snag a share of Twi-hards for his very own, playing Volturi vampire Caius in New Moon. Can't wait? Catch him in AMC's mini-series The Prisoner, starting Nov. 15, where Jamie plays the son of Sir Ian McKellen. "I stole everything from him. Not material possessions, but I tried to steal the way he speaks and acts," Jamie admits to the TV DivaGal of working with the legendary actor.
Article continues below advertisement
"He's an amazing actor and a genuinely great person, so I'm blessed," adds Jamie.
CLICK HERE FOR ALL OF OK!'s NEW MOON PICS & STORIES!
The devotion of fanatical Twilight fans aside, for Jamie, it's all about doing what he loves.
"To be able to work in general is a great thing, in this film and New Moon and Harry Potter," Jamie says, referencing an upcoming role in Harry Potter and the Deathly Hallows: Part II. "They're three things that I'm so proud of. I'm really psyched just to be able to work all the time."