NEWS
Jamie Foxx & Sheryl Crow to Make Beautiful Music Together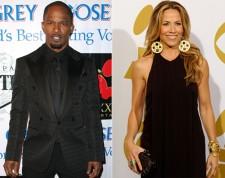 The Grammy red carpet was energetic last night. From American Idol hopeful Larry Platt's rendition of his hit "Pants on the Ground" to Lady Gaga's knockout fashions it was a raging red carpet for all. Some business deals also went down when the artists mingled at the top music award show. While Extra's host Mario Lopez was interviewing Jamie Foxx and Sheryl Crow, the artists made an impromptu collaboration deal.
Article continues below advertisement
The two stars discussed a possible song collaboration.
"I'm doing my album, I would love to do something with you... I would love to, I'm serious," Jamie told Sheryl during the Extra interview.
Sheryl told Jamie she heard some of his upcoming album through mutual friend Justin Timberlake, classifying it as "unbelievable."
OK! NEWS: GRAMMY RECAP: TAYLOR SWIFT AND BEYONCÉ REIGN GRAMMY KINGDOM!
Sheryl continued to on and invited Jamie to sing on her next album.
"There was a cowboy born on the plain, she was the wind that blew out his flame," Jamie sang, as he whipped out some lyrics for the possible collaboration with Sheryl.