NEWS
Jamie Lynn Sigler: Be Happy With Who You Are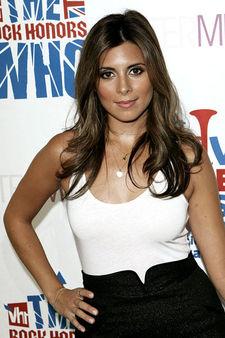 Jamie Lynn Sigler couldn't be more thrilled with her latest love, Jerry Ferrara, the former Sopranos star tells me at the Rebecca Taylor after-party held at Dream Hotel's AVA Lounge in NYC.
"Jerry's awesome," she gushes. "He's a good boy."
The couple -- who work together on the HBO hit Entourage -- spent Valentine's Day with her family in L.A.
"It was all a bunch of Cuban people, and we cooked food and played music until, like, 2am," the actress, who divorced manager AJ Discala in 2006, says. "It was a lot of fun."
Article continues below advertisement
Her family gives the pair their blessing. "There's not really much to not like about Jerry," she says. "I'm very happy. Jerry's a great person. I wouldn't be with him if he wasn't."
Like Jerry, 29, there's not really much to dislike about Jamie Lynn, 27, either. She stands up for her pal Jessica Simpson's weight criticism.
"I think that was incredibly unfair," Jamie Lynn says. "To me, I think she looks great if you look at her. If that's overweight by someone's standards, then they're clearly not thinking straight."
For Jamie Lynn, who battled anorexia, feeling comfortable in her own skin didn't come easily. She preaches that weight watchers shouldn't sweat a few extra pounds.
"I don't think you should feel pressure," she says. "I think you should do what's best for you in a healthy way where you're going to feel best. I mean, look, we're all different shapes and sizes. We can't change our skeletal makeup to look like somebody else. I do think you should be happy with who you are and unique with who you are. That's what's going to get you further."
Article continues below advertisement
These days, her life is a dream come true thanks to Entourage.
"I've been a fan of the show for a long time, and it's been fun to spoof myself, and now that I'm going back, it's fun to come up with ideas … almost creating this character. I share a name, and that's pretty much it. Everything is very different."
How does she compare to her character?
"I find the girls that play the good girls all the time tend to be a little more naughtier in real life, and the girls who play the naughty girls tend to be nicer. I'm not as naughty as I'm playing – definitely, we don't share the same choice of words – but yeah. It's a playful, fun, different departure for me, and it just pokes fun at what people's idea is of me a little bit and now getting to develop the character and develop her own arc is a lot of fun."
On the way out, we pick up a Jurlique gift bag that includes the brand's lavender hydrating mist, lavender hand cream and calendula cream, which is a sensitive skin-restoring moisturizer.
It's been a great day in the gift bag department: I stopped by the Spanx lounge, and picked up goodies the stars swear by and learned some trade secrets about how to make an outfit look more flattering. Nice!