NEWS
Jane Krakowski Manages Sweet Tooth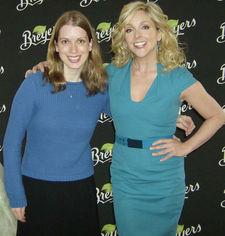 Jane Krakowski calls ice cream "one of my favorite desserts" during Breyers Smooth and Dreamy Webisode event held at Midtown Loft and Terrace in NYC.
Although the 30 Rock star, 40, confesses she doesn't eat it very often, she abides by the dieting motto "everything within reason."
"Ice cream is one of my favorite things," she gushes. "I always think you can tell a great ice cream by their vanilla. It's the test of all tests. But my favorite flavor probably is chocolate chip mint. It's so delicious. And Breyers, I've always loved their chocolate chip mint ice cream because they don't put green in it. It's actually natural – it's white. It's the way it's meant to be."
Article continues below advertisement
As waiters sail around offering up Atlanta Burning Delight desserts decked out with "peaches on the bottom, vanilla ice cream, raspberry topping and whipped cream," Jane's Webisodes air. She's placed in iconic roles in Gone With The Wind and King Kong.
"I've never done anything that was this technically advanced in the sense that I can actually be acting with Clark Gable and it's seamless," the Tony winner tells me. "I was absolutely blown away by the advancements in the green screen technology and what they can do these days. Our director of photography lit it with that old Hollywood studio lighting that nobody does these days. It was one of those experiences that I don't know where else aside from this Webisode you could have."
MORE ON:
Red Carpet Confidential
Ooh, check out that sundae bar! We're talking Smooth and Dreamy Rocky Road, Strawberry Cheese Cake, Chocolate Chocolate Chip and Creamy Vanilla pairs with marshmallows, strawberries, fudge, nuts and raspberries. Delish!
Gift bag time: I pick up a Breyers ice cream scoop (it's awesome!), Breyers ice cream coupon, red heart-shaped bowl, matching red spoon, Smooth and Dreamy Breyers notes, Gone With The Wind DVD and The King Kong Collection DVD. Woo-hoo!
Find out Jane's workout secrets in the OK! out now. "Brunette Bombshell: Ashley Tisdale" is the cover line.
SEE MORE PHOTOS IN THE VALERIE GALLERY: