NEWS
Jane Lynch to Ed O'Neill on Emmy Slam: Thanks For Being Repulsed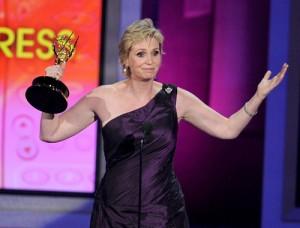 Jane Lynch is taking the high road when it comes to addressing actor Ed O'Neill's recent slam on her Glee Emmy win. While her character Sue Sylvester may have taken a different approach, Jane and her camp are simply thanking Ed for his not-so-kind words.
Jane won the gold trophy for Outstanding Supporting Actress for her role as the incorrigible gym teacher/cheerleading coach Sue Sylvester on the hit Fox musical show.
Article continues below advertisement
Ed recently caused a bit of an uproar when he expressed that Jane's win was undeserved and his Modern Family co-star, Sofia Vergara, would have been a better choice.
"Thanks for being repulsed," Jane's rep said in an email to E! News, in response to Ed's diss. "But let it go, that's what we're doing."
Looks like there will not be an Al Bundy vs. Sue Sylvester showdown.