NEWS
Jane Seymour Sympathizes with Kate Gosselin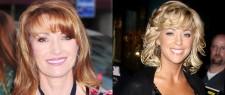 Former Dancing With The Stars contestant Jane Seymour understands what Kate Gosselin is going through when she watches her awkward performances on the show.
"She doesn't look like she's having any fun," the actress, 59, says during her Gen Art Film Festival premiere of Waiting For Forever held Thursday.
But there's a reason.
"I danced with Tony Dovolani in 2007. I know what she's going through. Tony is tough. There were a lot of tears."
MORE ON:
Red Carpet Confidential
Article continues below advertisement
What's a sure way to lose the competition?
"I would imagine to simultaneously piss off the judges, the producer and the fans," she reveals. "I don't know how they tabulate anything."
Hm, is the show fixed?
"I would hope not," Jane tells me.
What advice would she give the contestants?
"Have fun and remember it's a show," she tells me.
Jane won't play favorites when it comes to her prediction to win the show.
"I think everyone has to realize the whole thing is entertainment," she says. "You always have the old one, like Buzz Aldrin and the whole deal – obviously, if a professional dancer can't dance on Dancing With The Stars, we'd be worried. If a professional ice skater can't do it on dry land, I'd be worried."
Catch Dancing With The Stars on Mondays and Tuesdays at 8/7c.