NEWS
Jane Seymour's Support System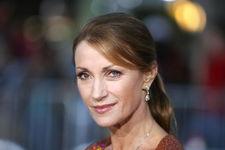 Monday night, only a week after the tragic passing of her mother, Mieke Frankenberg, at the age of 92, actress Jane Seymour was back in front of the Dancing With the Stars audience, wowing the judges with her tango, a dance she dedicated to the memory of her mom. And, though they're all fierce competitors on the dance floor, Jane's fellow celebrity rug-cutters were there for her, providing all the comfort they could behind the scenes.
Article continues below advertisement
"We
talked about her mom," Marie Osmond, who lost her own mother, Olive, two years ago, told OK!. "And we were saying how our mothers' funerals were
very similar — joyous, there was humor, there was tenderness, it was a
celebration of a wonderful woman's life."
As for how Jane is handling the loss? "She hasn't processed it yet, but she's a tough lady," Marie explained. "The dancing is good. I think it keeps her mind busy."
Cameron Mathison added, "It affected everybody. It was really nice to
see how we all came together for her. All of our hearts are going out
to her. It was emotional backstage."
And Mark Cuban provided Jane with a gift worth more than the billions of dollars he has in the bank — a hug from a friend.
By Carole Glines