NEWS
Janet Jackson Blames MJ's Doc for Her Brother's Death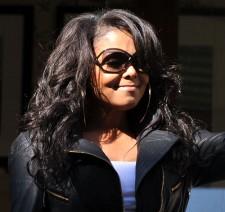 After maintaining her silence for nearly five months after her brother Michael Jackson's death, Janet Jackson is speaking out, and placing the blame squarely on the shoulders of Dr. Conrad Murray. "He was the one that was administering," she tells ABC's Robin Roberts in an interview airing Wednesday night. "I think he is responsible."
Dr. Murray, who was at MJ's home when he died, has admitted to administering the powerful anesthetic Propofol, but says he didn't give him anything that should've killed him. He is currently at the center of a manslaughter investigation.
Article continues below advertisement
"It's been a tough year," adds Janet. "You have your days where it's just really — it's hard to believe. And a day doesn't go by that I don't think about him."
Janet recalls the moment she found out her brother had died on June 25, including all the calls she made to her family members.
"I was at my house in New York. You know, another day. Another morning. And I get a call ... my assistant said, 'Your brother's been taken to the hospital. It's on CNN right now,'" she remembers. "I called everyone's. There's a line busy or — someone wasn't picking up. I spoke to mother. I spoke to Tito. I spoke to my nephew Austin. I spoke to my sister La Toya."
"I told them to call me when they got to the hospital. And I remember thinking nobody's calling me back, so I tried calling again, and that's how I found out that he was no longer ... I couldn't believe it," she said.
Janet confesses that the entire family was in disbelief that Michael had died.
"It just didn't ring true to me. It felt like a dream," she said. "It's still so difficult for me to believe. It's, you know, you have to accept what is. But it's hard. You have to move on with your life. You have to accept what is and I understand that."
Article continues below advertisement
Although Janet was younger than Michael, a "baby," as she says, the two performers and siblings had a special bond.
"We were incredibly close," she said, "A lot of similarities, his love for children and me being a baby. "We would practically do everything together from morning to night every day. Everyday."
Janet last saw her brother only a few days before her 43rd birthday, a fond memory for her.
"We had a lot of fun, laughing... I was being silly, acting silly. And he was sitting in front of me and just cracking up, laughing at me," she remembers. "I was being loud. And he thought it was so funny. I was just being stupid, acting silly."
Watch Robin Roberts' exclusive interview with Janet Jackson, "In the Spotlight," Wednesday, Nov. 18 at 10 p.m. ET.