NEWS
Janet Jackson Is a Fanilow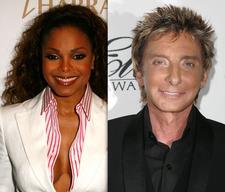 Jermaine Dupri better watch out!
The record producer has some serious competition when it comes to Janet Jackson's heart. The R&B songstress has carried a torch for another music star and is most definitely a, um, fan-ilow of Barry Manilow.
"I used to kiss the screen when he was on TV!" she tells Entertainment Tonight of her childhood crush.
Unfortunately, a relationship doesn't seem to be in the cards for the two. Janet has been dating Jermaine for six years, which naturally begs the question: Will they get married?
Article continues below advertisement
"I don't know," Janet says. "We're good where we are right now."
The 42-year-old has been twice-married, although only one was known for a while. Her second marriage to Rene Elizondo wasn't made public until she announced their plans to divorce in 1999 after eight years of marriage. But if she and Jermaine do tie the knot, one thing's for sure -- it won't stay a secret for long, if at all!
"If we were married, Jermaine would definitely let everyone know; it wouldn't be a secret," she says.
For more on Janet, tune in to ET tonight!