NEWS
Janet Jackson on Michael's Death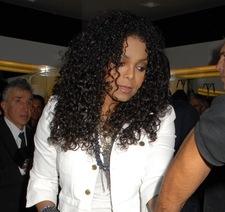 Janet Jackson, younger sister of Michael Jackson has released a statement via her manager, Kenneth Crear, on the passing of her brother.
"Janet Jackson is grief-stricken and devastated at the sudden loss of her brother," stated manager Kenneth Crear.
The singer arrived in L.A. early this morning from Atlanta, where she was working on a movie.
Our thoughts are with her and the rest of the Jackson family as they mourn the loss of Michael.
Article continues below advertisement
CELEBS TALK ABOUT MICHAEL:
<a href="http://www.okmagazine.com/pixandvids/gallery/15279/1" target="_blank"><img src="https://d-images.okmagazine.com/img/photos/large/34132.gif" height="100"/></a> <a href="http://www.okmagazine.com/pixandvids/gallery/15279/2" target="_blank"><img src="https://d-images.okmagazine.com/img/photos/large/34120.gif" height="100"/></a> <a href="http://www.okmagazine.com/pixandvids/gallery/15279/3" target="_blank"><img src="https://d-images.okmagazine.com/img/photos/large/34117.gif" height="100"/></a> <a href="http://www.okmagazine.com/pixandvids/gallery/15279/4" target="_blank"><img src="https://d-images.okmagazine.com/img/photos/large/34100.gif" height="100"/></a> <a href="http://www.okmagazine.com/pixandvids/gallery/15279/5" target="_blank"><img src="https://d-images.okmagazine.com/img/photos/large/34087.gif" height="100"/></a> <a href="http://www.okmagazine.com/pixandvids/gallery/15279/6" target="_blank"><img src="https://d-images.okmagazine.com/img/photos/large/34086.gif" height="100"/></a> <a href="http://www.okmagazine.com/pixandvids/gallery/15279/7" target="_blank"><img src="https://d-images.okmagazine.com/img/photos/large/34085.gif" height="100"/></a>