NEWS
Jason Aldean Dishes to OK! on Carrie Underwood as a Future Mom: "She Will Be a Great Parent!"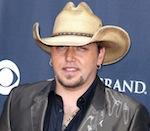 After Carrie Underwood recently spoke out about considering adoption with NHL hubby Mike Fischer, fellow country music star Jason Aldean spoke exclusively to OK! about what he thinks the "Undo It" singer could be like as a mom.
"She is a sweetheart," Jason gushed of Carrie, 28, over the phone to OK! on Friday afternoon after recent reports revealed she may be adopting soon, "And I am sure when the time comes that she has kids, she will be a great parent."
Article continues below advertisement
OK! NEWS: SUPERSTARS ROCK OUT AT LAS VEGAS IHEARTRADIO MUSIC FESTIVAL
While the "Dirt Road Anthem" singer doesn't know Carrie all too well, Jason still thinks once it happens for the American Idol alum, she'll be a quick learner with a baby.
"It's hard to tell if someone has that maternal instinct until they have a kid, you know?," Jason explained to OK!, "Then they don't have a choice and it kind of happens. They learn it."
OK! NEWS: TAYLOR SWIFT, SHANIA TWAIN & MORE COUNTRY MUSIC STARS RECREATE THELMA & LOUISE FOR CMT AWARDS
In the meantime, Jason, 34, is hard at work on his next album, which he says is, "a little bit all over the map. Some rock type of stuff and some more traditional type of country stuff." But, is a duet with Carrie in the cards?
"I would love to work with Carrie. I think she is great," Jason told OK!, "I think it has to be a combination of a lot of things and it has to be the right song for both people involved, even for the voices."
Source: NDTV Movies
http://movies.ndtv.com/movie_story.aspx?Section=Movies&ID=ENTEN20110184979&subcatg=MOVIESINDIA&keyword=music&nid=136896