NEWS
Jason Castro's Indecent Proposal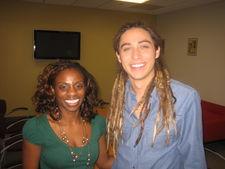 Eliminated American Idol contestant Jason Castro dropped by our office yesterday and whipped up quite a frenzy.
While co-workes resisted the urge to ask to be his bride, Jason revealed that's not the case with some other zealous fans!
"I've gotten lots of wedding proposals," he revealed to me. "They say, 'I know it's weird because you were on TV, but we were meant to be together.'"
Ya'll better start praying for a Jason clone 'cause the original is happily smitten with his girlfriend, Mandy, who he's known since high school.
Article continues below advertisement
"We go to different colleges, but the opportunity allowed itself, so we've been dating a little over a month." (Damn. David Cook better still be single!)
Jason, who once played drums in a band called Charlemagne, will continue pursuing his music dreams after Idol. "I think that music is an extension of one's self, so I'll try to write stuff that represents me," he shares.
Looks like we can have a little piece of Jason after all!
To read more about Jason, click .
American Idol, the elimination round, airs Wednesday at 9 p.m. on Fox.