NEWS
Jason Denies Begging To Be Voted Off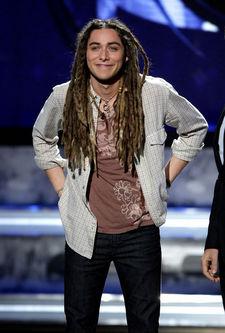 Jason Castro says that he was definitely not trying tell people to vote him off American Idol on Tuesday's show.
Footage from the show seems show the Texan mouthing the words 'Don't vote!' and then grinning behind host Ryan Seacrest's back after his performance.
After he had said in an interview last week that he was 'ready to go home', many presumed Jason was pleading with the audience to let him leave.
Article continues below advertisement
Today the singer said that he was saying 'Vote! Vote!' and insisted that he had hoped to stay in the competition.
But he admitted that there had been times when he had fleetingly wished he was back home in Rockwall, Texas.
"I was saying 'Vote!," Jason, who has finished in fourth place, told reporters. "And then I said it again because I was trying to emphasis that, but nobody heard me.
"I remember going and sitting down and thinking about it thinking it kind of has the same syllables, and that went through my mind and I was like 'dang it!'.
"Consciously the second time I only said vote once when they started doing the numbers because I thought of that."
But he added, "I think there was an interview last week sometime, I don't even know where it's from, that I said I wanted to go home.
"And I think this week people kind of had the idea that I was ready to go.
"That wasn't in my mind-set at all going in. Every week has its ups and downs, and that morning when I had that interview I was kind of frustrated with a lot of things: my music and the way it was coming along... there was a lot of things on that morning."