NEWS
Under The Knife! Celebrity Cosmetic Surgeon Dr. Jason Emer Reveals Which Procedure Is Most In-Demand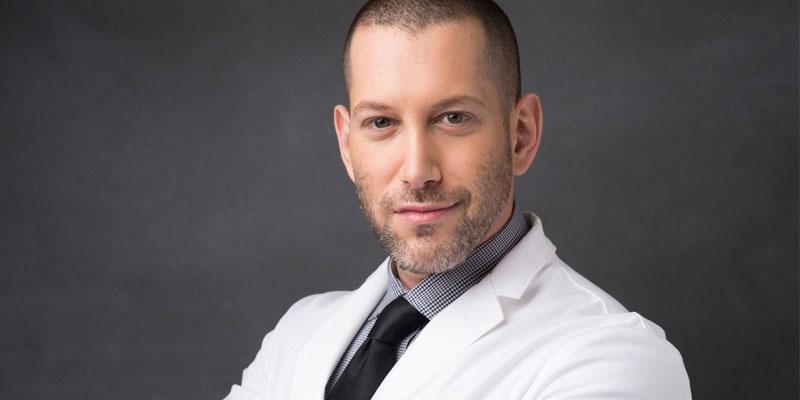 Dr. Jason Emer is known among Hollywood's elite as "The Cowboy of Facial Rejuvenation" because he can take any canvas and make it into a work of art. The sought-after dermatological surgeon offers cosmetic procedures that you can't find anywhere else (including his signature "Without a Trace Lift") — in fact, he is the first in the United States to offer AccuTite, the beauty industry's biggest innovation in facial contouring, skin and tissue tightening. OK! caught up with the Los Angeles-based doctor while he was in New York City for a two-day pop up at the offices of Dr. Yael Halaas — which sold out so quickly, that there are already plans for another!
Article continues below advertisement
What procedures are the most common among the rich and famous?
That's a good question, but there is really no discrepancy between the rich and famous versus the average person, it's just more or less whether or not they can afford it. Most of the innovative treatments I offer are suitable for anyone looking to preserve their youth; men and women of all ages and demographics. That said, it comes down to budget, as the most effective treatments are pricey. On the lower end, lighter treatments like SaltFacial, Botox, and micro-needling with PRP (also known as a Vampire Facial) are effective and affordable and can run $250 to $1500 per session.
Many of my high-profile clients who want big results with minimal downtime choose newer treatments which incorporate stem cells, stronger lasers, heat and energy to tighten skin by penetrating the deep dermis. During awards season, for example, there was a huge demand for Fractora, Morpheus and Thermage - these treatments yield phenomenal, long-lasting results and can run $3000 - $4000 per treatment, typically done once a year, but those who can afford it are doing it every month or two, that's the secret.
Article continues below advertisement
In some cases, my patients request specialized infusion facial treatments in the privacy of their own home, so we'll do a quick SaltFacial or DermalInfusion Silk Peel on them before a red carpet event to keep their skin clear, fresh and radiant. We're also doing a lot of fine fillers that are soft and subtle, (examples would be Belotero and Restylane Refyne) to fill out the lip border and fine lines to keep skin looking hydrated and healthy, always avoiding that overdone look. It's all about encompassing a treatment plan of micro-augmentations to address all the aspects of aging including texture of the skin, volume-loss, sagging, hyper-pigmentation, tone and movement. Everyone loves the instant gratification of a great result, but keeping up with preventative treatments is key.
You took on patients with HIV and the results were rewarding for both you and the patients. I found that to be very admirable because it says so much about you — not only as a doctor, but as a human being. Can you tell me more about that?
So about 13 years ago, when I started in New York, there were very few people who were treating HIV patients. I actually ran a clinic downtown. I had patients who were doing general dermatology but they had facial wasting, they had acne scars and nobody was really treating them. the filler companies at that time were not really doing things for free, so I kind of wrote the filler companies and actually, almost all of them started a project where they gave free product for residency programs and the Sculptra company (Galderma) ... gave me a bunch of vials to treat my HIV patients if they made under $30,000 a year. So I started this clinic on Saturdays and it went from like, a couple patients to like, 50 patients to over a hundred patients. And actually, at the time, after six years of being here, it became a cosmetic clinic for the residents for cheaper costs for other things. So it became a clinic that if you wanted filler, the residents would do it for less of a cost, so we did it for training. But it was very rewarding. I had patients who were in car accidents and got HIV, everyone always thinks it's from being being gay or doing drugs, but this person got it from a blood transfusion. The husband and wife both couldn't get jobs, they did two Sculptra treatments and their lives changed because it filled out their faces and they got jobs. People always thought, 'They're on drugs," but they were not. That's how I ended up doing a lot of cosmetics. I started doing fillers and lasers for those patients. Every time I called companies they would bring me devices. And now I have a very significant following of patients, specifically in West Hollywood, who have no problem coming to me for treatment because they feel safe and comfortable.
Article continues below advertisement
You introduced InMode's AccuTite at the "Ahead of The Curve" conference and you're the first Dermatologist in the states to offer the service. Can you tell us about that procedure? Which types of clients could benefit from looking into it?
It's a more precise method in which we can achieve tightening of specific areas of the skin, like around the eye, the jawline, the knees, areas where there are nerves, areas where you would typically be nervous about performing treatment. It allows you to be very precise in treating skin-tightening in areas where people are really looking for it.
Stars in Hollywood are getting a head start on preserving their beauty. Why are celebrities getting progressive, youth-preserving procedures before the age of 30?
I think a lot of the people are getting early preventative treatments because they're in the spotlight and they really have to look good much earlier on and in front of unforgiving high-definition cameras. In today's fast-paced world, there's no time for editing,so everyone needs to look their very best everywhere they go with or without makeup.
Article continues below advertisement
Further, more and more people see their parents and they just don't want to look as aged as they do. They want to prevent aging by any means possible, and it's my job to make that a reality. They see the hooded eyebrows, crepey eyelids, they see the hanging neck, they see the sun damage and skin cancer, and they see them requiring surgery so they think, 'What can I do now to prevent those things from happening?' Now with Instagram and Snapchat, and everyone feeling the need to look good in the spotlight, or in a candid photo, they are equally as concerned about looking great on their way to the grocery store as they are walking the red carpet.
Over the past 5 years people figured out that chasing wrinkles with filler causes that bloated, swollen look but laser treatments, peels, and sculpting treatments together with micro augmentations utilizing fillers and threads to lift the face yields the most desirable, natural looking results.
Today, everyone manipulates their face so much on social media with filters that they want to look that way in real life (chiseled face, high cheek bones and a sculpted jawline) Instead of magazines, they're getting motivated by Instagram and Snapchat filters.
Article continues below advertisement
What treatments do men get?
All men are coming in for the basic things. Botox to prevent fine wrinkles from developing, they're all wanting to get facials and skincare now. I find that micro- needling with PRP, deep-needling and tightening using Fractora or Morpheus, for example, where they don't have a lot of downtime but they can get a nice treatment to contour the neck. I find the body shaping has become very popular with men. They want the six-pack, they want more chiseling and definition in their muscles from treatments, rather than just fat reduction. Interestingly truSculpt iD, which is a newer technology, utilizes flat panels placed onto the skin in small areas, can achieve skin tightening and fat reduction without any downtime, versus CoolSculpting, where there's bruising and swelling for a while, or other invasive surgical options. People are integrating that into their workout. They're literally coming in every month, getting a TruSculptiD treatment and going to the gym because they can work out immediately after the treatment. So they have this ability to, almost like a haircut, fully contour their bodies monthly and they're doing the same things to their faces now. They're getting their facials every month, they get micro-needling every month, maybe their skin tightening treatments every couple of months, they're getting those Thermages once a year to keep their skin tight and collagen-produced. And I find facial sculpting is huge for men now, defining jawlines, lifting the cheekbone. You'd be surprised how many men get lip filler now, eyebrow lifting, just because volume deficits in these areas are what people notice when it comes to early signs of aging.
What's the percentage of men who come to see you versus women?
60, 40, men, which is very unique versus the industry standard.
What tips can you share for our readers in terms of looking to find the best plastic surgeon for them?
That is really, really tough. I think you have to really do your research, look at online patient reviews but obviously take those with caution, because there are a lot of untrustworthy people out there giving false information. Look carefully at people's before and after photos, meet their staff, and trust your gut instinct. The biggest thing I think is not only having 100% confidence in your doctor, but also trusting his or her judgement wholeheartedly. Know that, no matter what, everyone runs the chance of experiencing side effects and complications. Surgery is surgery, and you have to trust that, no matter what, your doctor has your very best interest in mind.
Article continues below advertisement
What are risks other plastic surgeons don't want consumers to know?
There are a couple of things. One thing is: nose filler is a very dangerous treatment and it can cause tissue necrosis in the nose if it's not done properly or frankly, just bad luck. Often doctors don't really stress that when someone comes in with a little bump in their nose and they want filler to remove it. The other risk is blindness from fillers or any injections around the eyes. It's a known complication zone, it's on my consent forms, but it's not necessarily something we point out to somebody. There's always risk of scars, burns, and/or discoloration when you do laser treatments, it's just that everybody thinks 'it won't happen to me.' In general, I think most plastic surgeons are very honest. They talk about the main complications, which are infections and scarring.
If someone is curious about going under the knife but has their reservations, how do you ease their worries?
By meeting me, people feel comfortable. They usually start out with something easy, like Botox or fillers, those can be reversed if you don't like them. Certain fillers and Botox are very simple treatments, so patients can start easy, like around the eyes where everyone is going to be happy when they get the injection. Skincare and light lasers make people glow right away. Those types of treatments usually make everyone want to come back, so you start out slow. If someone wants surgery for example, but they're nervous about the big transformations that I do because, really, nobody else does the combinations that are very complex procedures, maybe they do one smaller area to start, like their arms or chest before they go into doing their whole body at once. So we just develop a relationship. What's different about me is that we have a whole team that becomes your concierge. I call it 'Skin Gym' because you're coming in every month but you have a consultant who is there to talk to you about other procedures, to put packages together, to make things happen for you on your price level. You have my consultants and skin care specialists who do all the treatment plans with you, orders skin care products for you who can customize them for you. We really have a team of people and estheticians that are there for you for all components. I come in and I'm kind of like the coach of the team who puts everything together and certain things I do and certain things they do.
Article continues below advertisement
How has social media affected your business?
My entire practice is driven by social media. People from all over the world follow us to get a sneak-peek of real patients with real results in real-time. We're doing this Pop-Up here in New York and my appointments filled up in 2 hours from just one social media post. So I think social media not only has impacted who is coming in because they're trying to relate to somebody, they see what I'm doing everyday and they want to go to me, but also from the celebrities, the fashion industry which is promoting things online about health, wellness and beauty all the time. It's making people really want to come in for treatments and look for doctors.
What percentage of your business would you say is driven strictly by social media?
90%
Check out Dr. Jason Emer's work on Instagram: @jasonemerMd