NEWS
Jason Lewis Charms at 'Sex and the City' Afterparty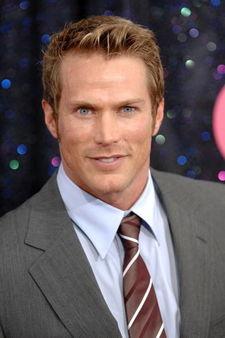 Sarah Jessica Parker swans in with hubby Matthew Broderick, and Chris Noth says "hello" during the afterparty for Sex And The City: The Movie held at the Museum of Modern Art in NYC.
For the first time ever, the movie studio has assigned an escort attend to my needs. Apparently, Sarah Jessica, Kim Cattrall, Kristin Davis and Cynthia Nixon are here for fun only – no interviews. They're ensconced in a private area away from prying eyes on the second floor, which is off-limits.
Article continues below advertisement
But that amazing escort introduces me to Mr. Jason Lewis, who greets me with a kiss on the cheek and invites me to join him on the white sofa. "It's a little blown out of control, isn't it?" he says. He zips his lips about Kim, but says he can see Kristin as a mom. "She'll probably do anything she wants to do well," he tells me. Hm, is he dating anyone now? He shakes his head "no," we chat and he gives me a parting kiss. Mwah!
Jennifer Hudson treks upstairs, and Fergie is entertaining in a middle booth. Tunes including Jesse McCartney's Leavin', Madonna's 4 Minutes and Jackson Five's I Want You Back play. There's a buffet of Asian cuisine including egg rolls and rice, and a dessert bar including mini ice cream cones in chocolate and vanilla, strawberries and tea cake.
"Would you talk to David Eigenberg or Willie Garson?" my escort asks. Sure.
MORE ON:
Sarah Jessica Parker
Article continues below advertisement
David, who plays Cynthia's husband, is sitting with his wife. He calls Ms. Nixon an "absolute doll," and says her girlfriend Christine Marioni is a "fantastic lady." Will they marry now that it's set to become legal in California? "I believe that anybody who wants to get married should get married," he tells me. "If you want to be aggravated more, you'll be aggravated more. That's a definite. Once you're married, you become quickly aggravated." He chuckles.
OK!
My reporter pal is sitting on a white couch interviewing Willie when she asks me a Sex and the City question a, b, c-style. Apparently she's told Willie I'm an expert – when I'm really not. Whoops! Money exchanges hands because my reporter pal wins the bet against Willie. Sneaky!
It's my turn. Will there be a sequel? "I think we've planted some seeds," Willie tells me.
Fergie hops into a waiting limo. She's on her way home to tend to her sick fiancé Josh Duhamel. Time to call it a night.