NEWS
Jason Mesnick Pulls a Switcheroo!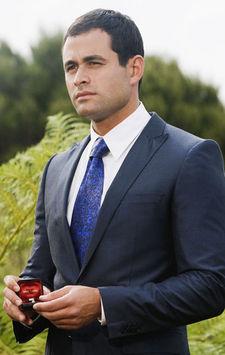 All I can say about The Bachelor finale tonight is damn.
That's in damn you, Jason Mesnick. This is the kind of stuff that makes me never want to date again.
After being dumped at the final rose ceremony by DeAnna Pappas last season, the single dad had a third chance at love by becoming The Bachelor.
He started with 25 lovely girls, and narrowed it down over the weeks to two women.
There was Molly, the sensible and nice – if not a little predictable – choice, and Melissa, the vivacious, living life on the edge gal.
Article continues below advertisement
Over the past few seasons, the Bachelors and Bachelorettes have been drawn to the one with the wild streak, with disastrous results.
But Jason, who's actually been the "nice guy" should have known better.
Heck, DeAnna, who dumped her fiance Jesse Csinsak, actually came back to see if she could have another chance with Jason. He turned her down, and she warned him to choose between his two remaining women carefully, to look beyond the moment and think about whom he could really spend his future with.
Obviously, Jason didn't listen. He picked Melissa, swearing he wanted to spend the rest of his life with her.
Only a few months later, Jason, who swore he had found his fiancé when the show premiered in January, was announcing he needed a do-over on The Bachelor, After the Final Rose tonight.
There was no studio audience as he revealed he had made a mistake, and couldn't stop thinking about Molly.
Article continues below advertisement
So Jason did what any self-respecting boyfriend would do, he chose to break up with Melissa on a TV show!
Reasonably pissed, Melissa spoke of herself in the third person before giving Jason back the ring and telling him "don't text or email me again." Yeah, that's an understatement.
(Don't worry, hon, you may be the abandoned wild card, but you will find the right guy – when ABC picks you up as the next Bachelorette.)
As for Jason, who cried after breaking Melissa's heart, actually went on to try to woo Molly back. What a wuss.
Sure, Molly took him back. She loves him. She can't help it.
But let's face it, Jason doesn't deserve either gal.