NEWS
Jason Segel Lost 35 Pounds In Order to Co-Star With Emily Blunt in 'The Five-Year Engagement'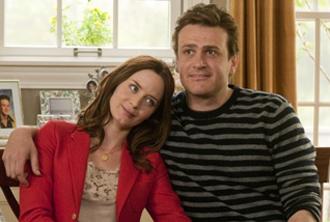 Jason Segel may be dating Michelle Williams, but she's not the one who forced him to drop 35 pounds. Actually, Jason's weight loss had a lot to do with his gorgeous co-star, Emily Blunt!
The hilarious actor appeared on The Late Show With David Letterman last night and revealed that although he wrote The Five-Year Engagement, the producers almost didn't let him star in his own film because he was too fat!
Article continues below advertisement
"I didn't enjoy it, but they sent a trainer to set and I had to work out twice a day and then he would watch me eat all day and monitor my eating," Jason explained, adding, "but what they didn't anticipate was, I'm very clever, and I play a chef in the movie, so there were a lot of scenes where I had to eat. So I would pay my co-stars nominal amounts of money to mess up their lines in the scenes so I would get to keep eating!" What a trickster!
OK! NEWS: JASON SEGEL TALKS NEXT MUPPETS MOVIE: "I'M SURE I'LL BE BACK"
And although Jason struggled to star in a movie he wrote, the How I Met Your Mother star admits that there are definitely perks to being the screenwriter.
"It's really fun and there is some advantage to writing the stuff," Jason joked. "Like, I wrote all these love scenes with Emily Blunt and she shows up and she just has to do it... Because we're paying her money and it's her job!"