NEWS
Jason Sudeikis Getting Cozy With Mary-Kate Olsen Not Ashley?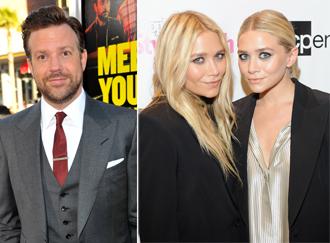 Ashley Olsen's name has been making headlines today for reportedly getting cozy with Jason Sudeikis, but it's actually her twin sister Mary-Kate Olsen who should be getting the credit!
According to E! News, Jason was reported to have been seen getting cozy at Brett Ratner's afterparty for the Tower Heist premiere in NYC on Monday.
But the 36-year-old actor was actually chatting up Mary-Kate!
"Mary-Kate was spotted with Jason at the Stone Rose Lounge," a source tells E! News. "While Ashley was busy chatting up Brett Ratner, Eddie Murphy and Casey Affleck, Mary-Kate stuck by Jason's side all night long. They were laughing and having a great time together all night. It was cute."
Article continues below advertisement
Mary-Kate and Ashley's rep, however, says they were all hanging out together because she works with all of them.
"That is the extent to it."