NEWS
Jason Sudeikis Says He "Spooned" With Kristen Stewart Before Hosting MTV Movie Awards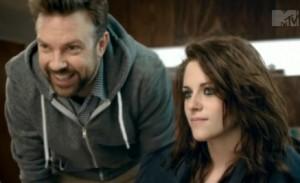 During an MTV interview about his new movie, Horrible Boses, MTV Movie Awards host Jason Sudeikis was asked which young star he worked with on a promo video was the most fun to meet. His pick? Kristen Stewart, and it sounds like they got pretty close!
OK! VIDEO: WATCH KRISTEN STEWART AND TAYLOR LAUTNER'S PROMO VIDEOS FOR 2011 MTV MOVIE AWARDS!
"I really like Kristen Stewart," Jason said of the Twilight star. "I never met her, but she had worked with Bill Hader and Kristen Wiig on a movie, Adventureland. She was super quiet and just had, like, a cool dog and was just kind of like, 'Whatever.' "
Article continues below advertisement
And Jason explained the reason they got along so well was because he has younger sisters.
"I have two younger sisters, so I've been around kids younger than me — just kind of busting their chops and whatnot. I've been doing this since I was 5 and they were 1, so even though Kristen is much younger than my sisters, it felt pretty natural."
"But you slept with Kristen?" Jason Bateman, his Horrible Bosses co-star, joked.