NEWS
Jason Sudeikis Tells OK! Jennifer Aniston's New Haircut is "Wonderful"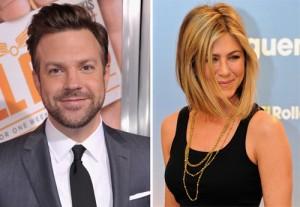 Article continues below advertisement
But we came prepared with a picture on hand, and the star gushed at the A-list actress' new 'do.
"It's great! It's great yeah, it's wonderful," Jason told OK!.
Jason recently dated Mad Men star January, and while she may be one of the hottest actresses in Hollywood, he said he isn't that picky.
His type?
"Anybody that says yes," the actor quipped.
And how about those rumors romantically linking him to another blonde bombshell, Scarlett Johansson?
When asked if it was flattering, Jason shared, "Yeah, for her you mean? Yeah, I'm sure of it."
Reporting By Amanda Champagne